KiddyKeys®
KiddyKeys' well-thought-out learning trajectory and its energetic lesson experience enables all types of young learners to easily learn music concepts. Utilized in online and in-person lessons, KiddyKeys lays the ideal foundation, whether used as a music and piano discovery class, in private lessons, or partnered with a piano method to provide a complete on and off the bench piano lesson experience.
KiddyKeys®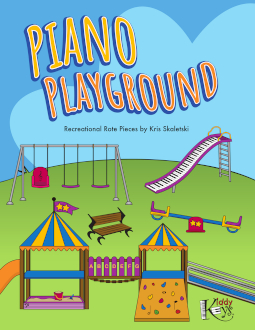 Created by Kris Skaletski, KiddyKeys is the leader in play-based, piano-focused music programming, and is designed to teach music theory concepts and appreciation, providing children with the opportunity for self-expression while they explore music through keyboard improvisation.
KiddyKeys offers play-based learning, engaging each child in the learning process. Creative play promotes independent thinking, and an environment rich in hands-on teaching tools fosters enthusiastic learning. KiddyKeys music is distinguished by its ease of use, whether used in a group classes, private lessons, or in tandem with your favorite piano method materials.
We currently carry a variety of KiddyKeys songbooks and sheet music for use with students of all ages!