Viva Violin™
Viva Violin features the collaborative efforts of Meagan Mason and Jennifer Eklund providing early through late beginner level violin solos with lush contemporary piano accompaniments. Viva Violin selections are available as hardcopy songbooks, digital songbooks, and digital sheet music.
Viva Violin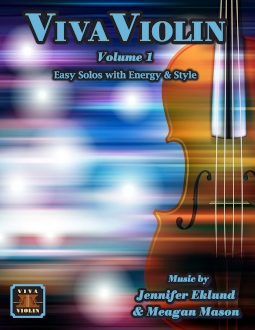 The Viva Violin series is for students who are just beginning to play the violin.
In the Viva Violin: Rising Stars book, the early pieces use simple rhythms, open strings, and stepwise motion with two fingers. Later pieces add the other fingers and right-hand techniques such as string crossings and simple dynamics, staccatos, accents, and slurs. New rhythms and meters are introduced gradually, with care that these are intuitive and easy to play by rote as well as by counting.
Viva Violin: Volume One is perfect for late beginners and students who have learned the pieces in Viva Violin: Rising Stars. The same techniques are used but in combinations that are slightly more demanding. The keys of D and A minor incorporate new finger positions within first position, and fun and familiar jazz, swing, and Latin rhythms are introduced.
The Viva Violin series gives new violinists a chance to play in various styles inspired by contemporary, classical, folk, and popular music. We aim to leave them wanting more!
In addition to the Viva Violin books, we offer a wide variety of violin and piano duet sheet music.