Getting Your Students Connected
Getting Your Students Connected
This is a quick-start guide intended to help piano students and parents connect with their teachers.
Info
Students are not required to have a Piano Pronto account in order to receive licensed copies of music from their teacher, but we highly recommend they create an account to take full advantage of their assigned products.
The instructions below are intended for students or parents to help them get connected with their teachers on our platform. If you are a teacher, feel free to distribute this part of the guide directly to your students and families.
STEP 1: Create a student account
If you have received a "You've got music" email but do not yet have a Piano Pronto account, the easiest way to get started is to click the "Register and accept teacher request" button in the email. By registering through this link, your student account will automatically be connected with your teacher.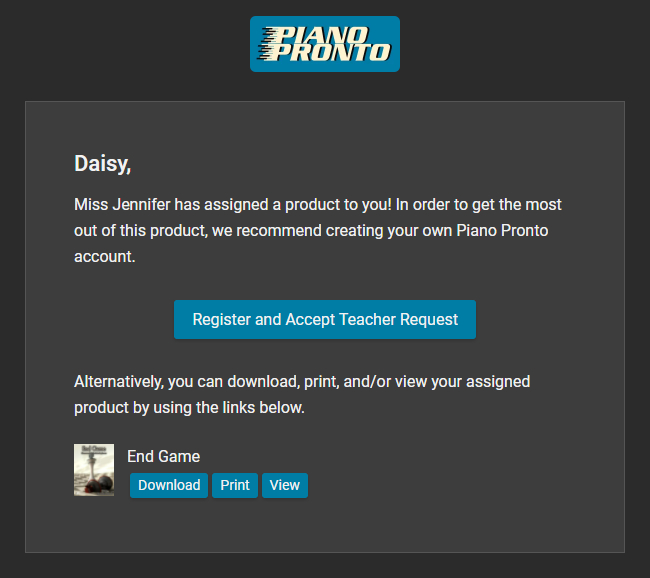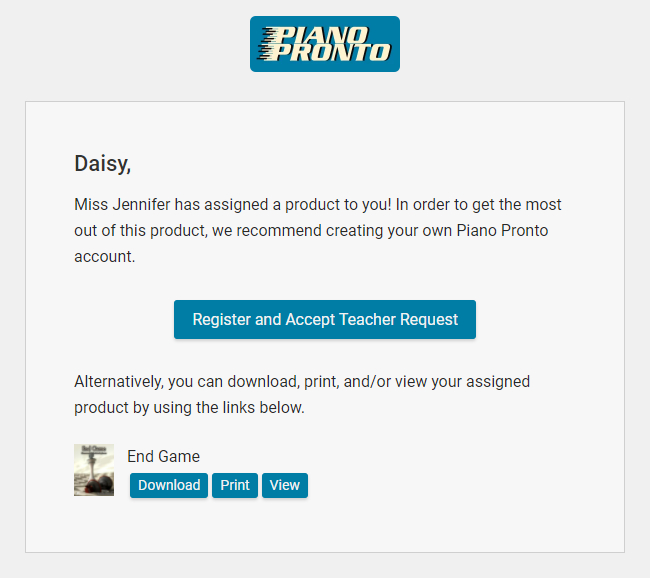 Alternatively, navigate to the main website and click the Sign in > Create an Account link. Register with the same email address that your teacher provided and select the "Student" option for the "What type of user are you?" question.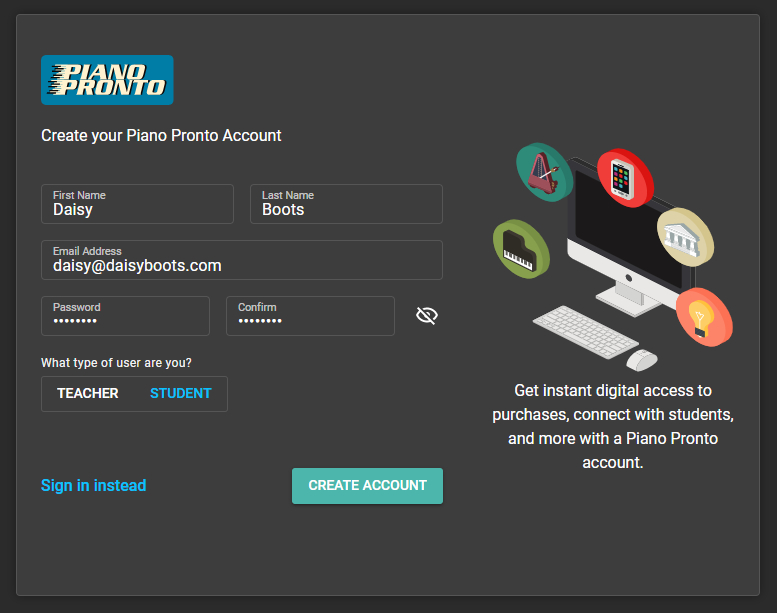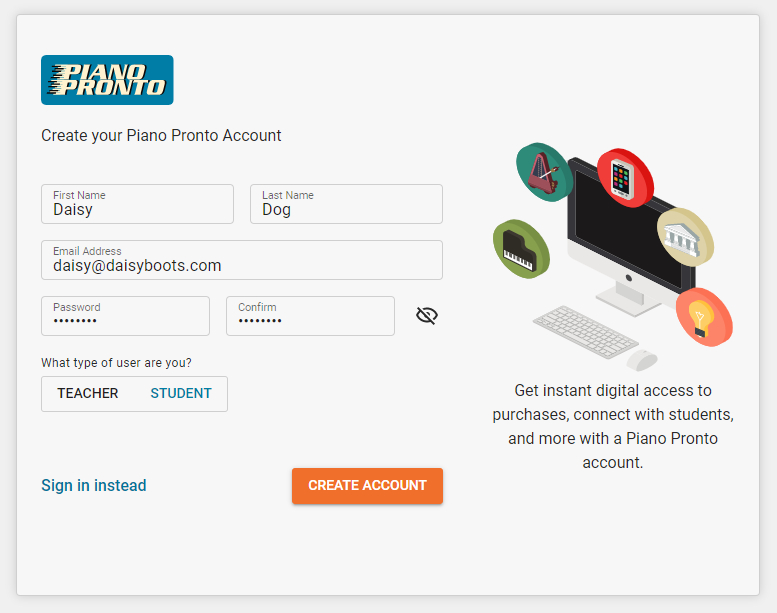 STEP 2: View your teachers
Once registered, navigate to your Account Dashboard where you will see a Your Teachers menu item. If you do not see this menu option, double check that you have selected the student user type in the Account Settings page.
If you registered through the link in the email, your teacher's request will already be accepted. If you registered manually or already had a Piano Pronto account, you can accept your teacher's request by clicking the "Accept request" button.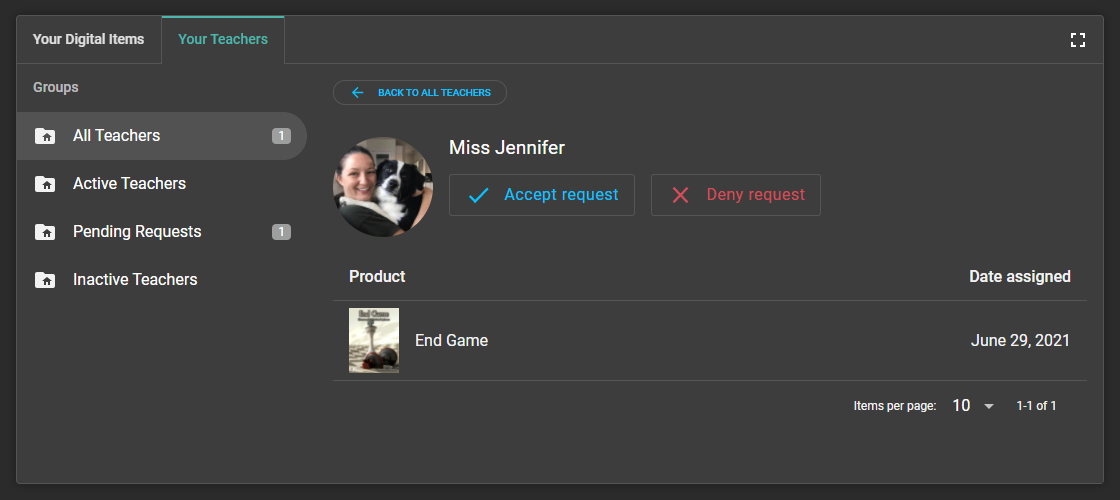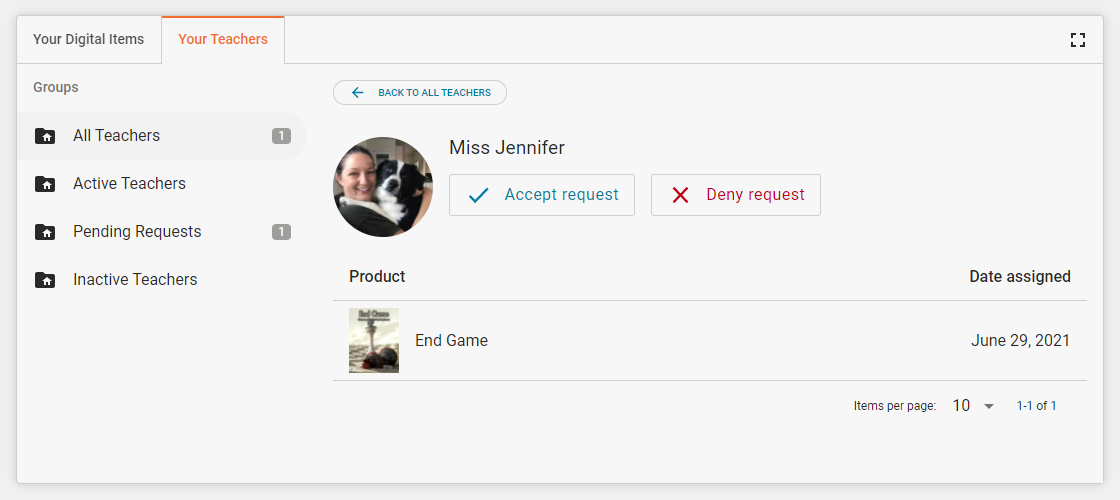 STEP 3: Check out your assignments!
From the "Your Teachers" tab, you can see all books, music, and audio products your teacher has assigned to you. If you have multiple teachers, or if you have bought music yourself, you can see all products you have a license to on the "Your Digital Items" tab.
Select a piece of music to open the detailed view. From here you can download, print, or view online your assigned products.
Info
If you receive a message saying you have no more download or print attempts, and you have not yet downloaded or printed the product, ask your teacher if they have already downloaded or printed the product for you. If they have not, you can request a permission reset.