Movement 1: Power Pages™
Workbook written by Jennifer Eklund
Movement 1: Power Pages is an all-in-one supplement to be used in tandem with the Piano Pronto Movement 1 method book. This workbook provides written theory, sightreading/technique, ear training, lead-sheet playing, and composition exercises to reinforce all of the concepts introduced in the Movement 1 student book. This essential item will help build strong readers and confident students!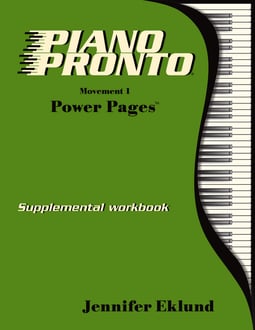 Movement 1: Power Pages™ (Hardcopy)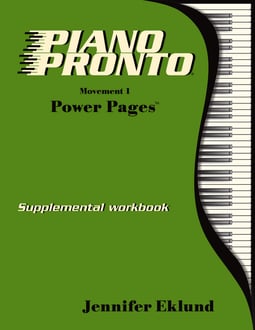 Movement 1: Power Pages™ (Digital: Single User)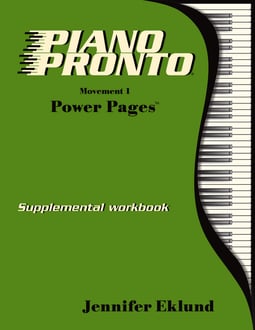 Movement 1: Power Pages™ (Digital: Studio License)
Quantity:
Limit one per customer
| | |
| --- | --- |
| Level | |
| Medium | |
| Author | |
| Brand | |
| SKU | PPPP003 |
| ISBN | 978-1-942751-78-6 |
| Number of Pages | 72 |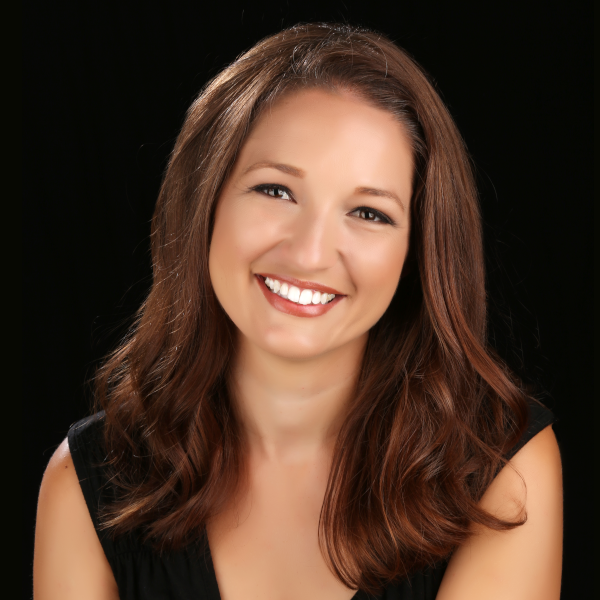 Jennifer Eklund
Jennifer Eklund holds a bachelor's and a master's degree in music from California State University, Long Beach. She is an avid arranger, composer, and author of the Piano Pronto® method books series as well as a wide variety of supplemental songbooks. She is also a Signature Artist with Musicnotes.com with a large catalog of popular music titles for musicians of all levels.
This product is part of a series
You may also be interested in
Customer questions & answers
Question:
What are the Power Pages?
Answer:
The Power Pages are supplemental theory workbooks that correlate to the first five levels of the Piano Pronto method book series. Written theory, technique, ear-training, composition activities, lead-sheet playing, and much more are included in each volume!
Question:
My student is having a hard time keeping up on the Power Pages, what should I do?
Answer:
While the numbered lessons in the Power Pages correlate directly to the student method books it is not necessary that students are always completing the materials at the same pace. In order to maximize time during lessons, work through the Power Pages material that require assistance and leave the rest as an at-home assignment (especially easier exercises like tracing, composition prompts, written theory).
Customer reviews
---
Review this product
Share your thoughts with other customers
This book is awesome! I love that it teaches theory along with lead sheet playing and ear training! So many great skills taught in one book!
This is absolutely my favorite power pages book! No longer do I have to piece together my own way of teaching students to read pop chords and lead sheets - it's all spelled out in an easy to read and understand format here. I love what material is represented and how. Students have no trouble jumping right in and giving it a try!
I have students using the Keyboard Kickoff and Prelude Power Pages and they are great, but the Movement 1 Power Pages are phenomenal. My students are just eating up the exercises, composition and everything else in this book. What an amazing addition to what is already a great method!!!
I have placed all my students in Movement 1 and above in Movement 1 Power Pages. Why? Power Pages are relatively new and the concepts, especially chord building and playing with lead sheets that are introduced in Movement 1, need to be learned or at least reviewed before progressing to the higher Power Pages. I do teach chords, but these Power Pages organizes that teaching and builds on previous ideas. These Power Pages are an excellent way to teach playing from lead sheets. Power Pages superpower my teaching!